GUI : Pause menu features :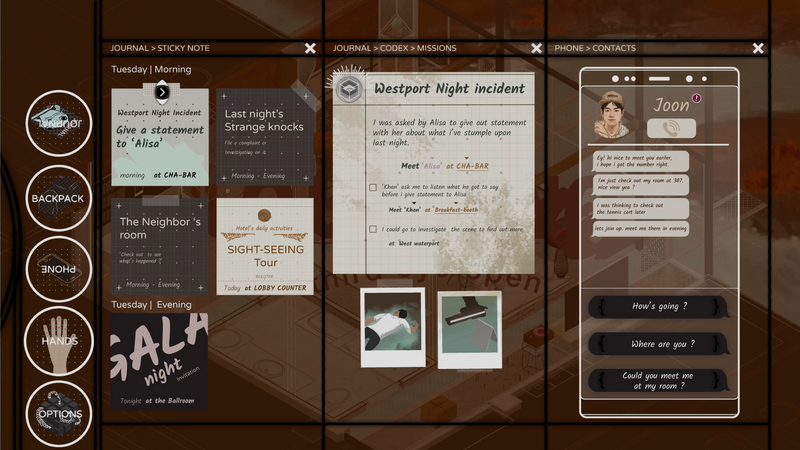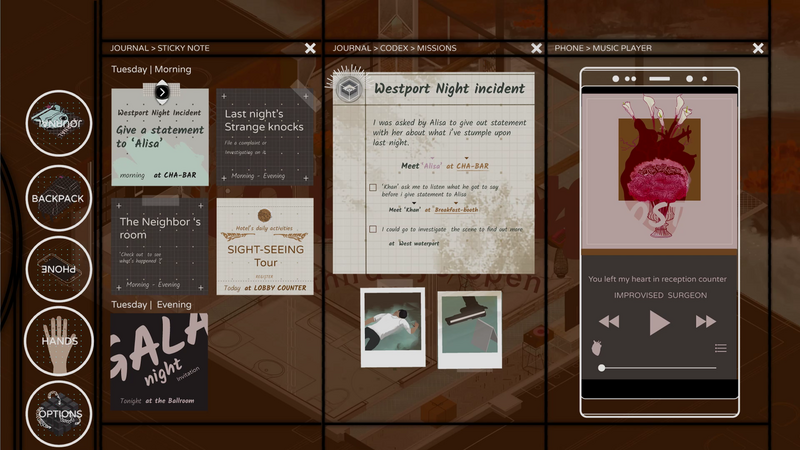 Journal |reviewing of what you have done.
codex of what you've known. if youre lost on what to do
there's reminder sticky note for showing schedule.
personal journal of your character mentality and understanding
documenting for seeing process of your stays
Backpack | Inventory system of items that you own.
Phone | for contacting people who've met on your stays
having a convo without being in front of the Characters,
or text system for reading what characters messages or
asking about their location and their status
also music player for changing OST nut restrict if you're on a quest
Hands | tiny function of checking your condition
just like what you can do look down at your hands
also mini game that you can play with your hands
Option | Game-Setting
---
GUI : Quest initiate interface :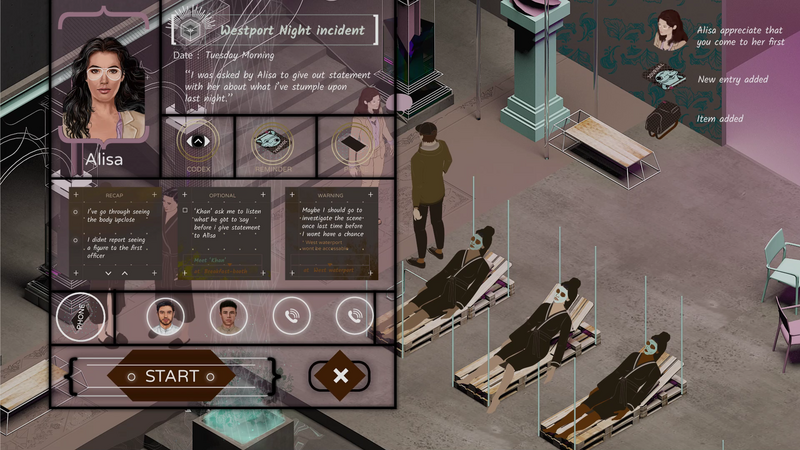 Journal > Codex
bring the codex journal page of the related content to the quest.
Journal > Reminder
Provide as optional and could hide them,if your deem them as to break the immersion
( this come from myself experience, as being perfectionist sometime too much that i have anxious that i'd have miss something in game )
3 sticky notes represent :
+ A 'recap' of your significant action prior
+ A 'Optional' action that you should consider done to provide more information that you about to get involve in.
+ A 'warning' for some area , character or conflict of quests that may be cut off after you begin the quest.[/li][/list]
Phone – Character involvement / companion for the quest
depending on your relationship status and your decision to include them. character that you choose to call on your quest
could play significant role , even be a big factor or provide new solutions on outcome of the quests.
http://sleepingwiththirdeyeopengame.com/wp-content/uploads/LOGO01-300x138.png
0
0
Kian
http://sleepingwiththirdeyeopengame.com/wp-content/uploads/LOGO01-300x138.png
Kian
2018-02-09 21:45:08
2018-02-09 21:45:08
Chapter #04 : Interface : pause // Quest | 'Writing on the palm of your interface hands'